WELCOME TO HERB CAMP 2020! In this final day of herb camp, with the theme of "Herbal Creativity", we are exploring coil basket making.  Pine needle baskets, sweet grass baskets, rafia, dandelion stems, willow splits and many other natural materials have been used by women through the centuries to craft baskets for carrying their harvests.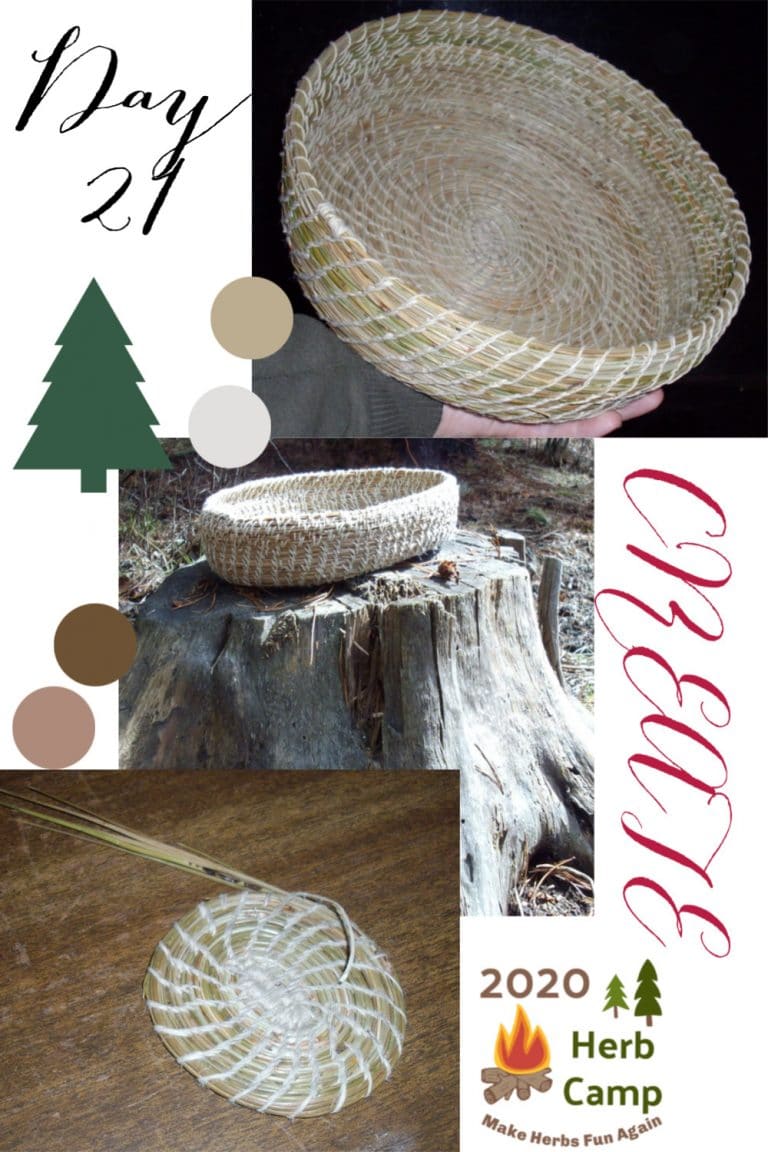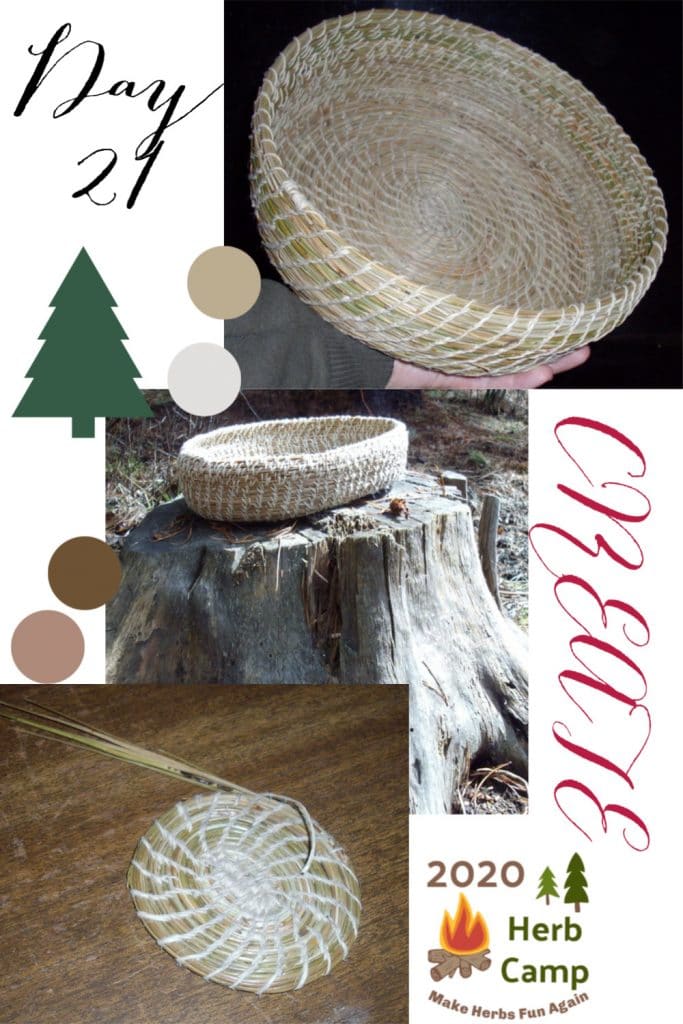 Pine Needles
My favorite material for making coiled baskets is pine needles.   You'll need pine needles that are at least 6 to 10 inches long.  Longer is better.   There are several kinds of pine trees that have long enough needles for basketry, BUT you may only have one or two growing near you.  Look for one of these pine tree varieties: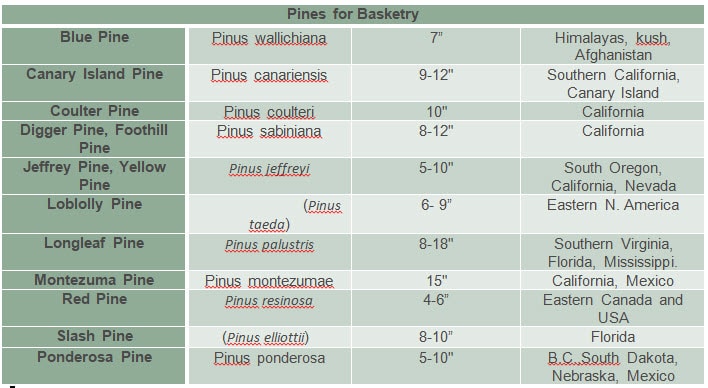 As you can see California has several suitable pine trees, with long enough needles for coiled basketry.  If you live in Western Canada the Ponderosa pine tree is your best choice.  If you live in the East, Longleaf Pine or Slash Pine will be your Pine trees.  I could not find information about the Pine trees in Europe or the Middle East.  If you have some advice, please share it in the comments.
If you don't live where there are long needled pine trees, there are other materials that are suitable for coiled basket making.  Even rolled up paper, cordage, grasses, reeds, rafia, and willow splits have been used for coiled basketry.  Use the material that is local to you.  Consider the stiffness of the materials as well.  Stiff materials will make sturdier baskets than soft materials.
In addition to the natural material used for coiling a basket you'll also need a sturdy thread that can handle being drawn through the coils multiple times.  Ordinary cotton thread like embroidery floss or cotton sewing thread will abrade and break from the rugged stitching required by coil basketry.  Traditionally, waxed linen thread or waxed hemp thread was used in coiled basketry.  You can make your own waxed thread by drawing hemp thread or even cotton twine along a piece of beeswax to strengthen it and smooth the fibers to reduce friction when sewing.  The shorter the thread the less abrasion your thread has to handle.
Use a study stainless steel needle with an eye that is large enough to handle your sewing thread.  A blunt tipped crewel embroidery needle or a darning needle will work.
Materials for Coiled Basketry
Coiled basket material like pine needles, cordage, or grasses
Thread for stitching
Needle for stitching
Beeswax to strengthen thread
Once you have your materials gathered you are ready to begin.
Steps to Coil Basket Making
Soften basketry materials in warm water for 30 minutes to make them pliable.
Begin coiling the basket by taking a small bundle of the needles (say 7 needle bunches) and wrapping with your thread.
See this video for the step by step procedure:
Once you get the feel for weaving coiled baskets you can use this technique for many kinds of vessels from gathering baskets to coasters, from jewelry to kitchen tools.  This is the technique used to make viking-era bee skeps for the garden.   Master coil basket making and teach it to your children and grand children.  This is one ancient skill that it is essential to pass on.
Your Herb Camp Challenge:
Locate pine needles or other suitable materials for coil basket making growing in your area.  Leave a comment here OR in the Facebook group here, and tell us what local materials you have that can be used for either coil basket making OR pine needle basket making.
Bonus: Make a small coil basket using natural materials.  Share a photo of your completed coil basket either in the Facebook group here or share a link to a photo of your completed basket from a photo sharing site.
Note: Click the small arrow on the LEFT to go to the previous day's Herb Camp Challenge. Click the button on the RIGHT to go to the Herb Camp Guide.